We are disappointed to announce the 2020 Ohio Challenge Hot Air Balloon Festival scheduled for July 17 & 18 has been cancelled.
We have examined many factors including the guidance from state and local health officials and feedback from balloon pilots, healthcare professionals, other event managers, vendors, volunteers, and corporate sponsors. We have determined the health risks are too great to ensure the safety of pilots, vendors, volunteers, and patrons. In addition, one of the primary sources of income for the event is corporate sponsorships and most companies are experiencing financial challenges and are prioritizing their resources on the wellbeing of employees and the business.
We would like to recognize our sponsors, volunteers, vendors, balloon pilots, skydivers, and the public for your commitment to the event over the past 18 years. It is your enthusiasm and love for the event that drives us to provide the most memorable experience possible year after year. Rest assured the Ohio Challenge Executive Committee cannot wait for COVID 19 to get resolved so that we can host the event for the 19th time next year on July 16 & 17,2021.
Click above to check out our video from facebook
---
Featured Activities
Hot air balloon experience

Come experience an up close adventure with Hot Air Balloons.

Night Balloon Glow

A fan favorite, the night balloon glow is a magical display that families look forward to every year. This year's balloon glows will be July 17th and 18th at dusk.

Fireworks

Fireworks will start around 9:45pm on Saturday, July 18th. There will also be fireworks Friday night.

Festival Rides, Food, Drinks, and Craft Vendors

Car Show

The car show will be Saturday, July 18th, from 4pm to 8pm. Registration is from 2pm to 4pm. The cost for registration is $15. Dash Plaques are guaranteed to the first 100. Top 30 awards plus best of show.

Tethered Balloon Rides

We will be onsite offering tethered balloon rides. Rides will be $20 for adults and $15 for children.

Goodfolk & O'Tymes Biplane Rides

Dayton, Columbus, and Cincinnati's only antique open cockpit biplane ride business. Enjoy a sightseeing open airplane ride over the Ohio country side.
---
Festival Information
The festival is open 4pm to 10:30pm Friday, July 17th and Saturday, July 18th.
Walk-in admission is $5 per adult, 13 and up. 12 and under are free.
Parking is $15 w/ free shuttle and admission for all in the car.
Parking Shuttle from the Airport Entrance
---
Event Map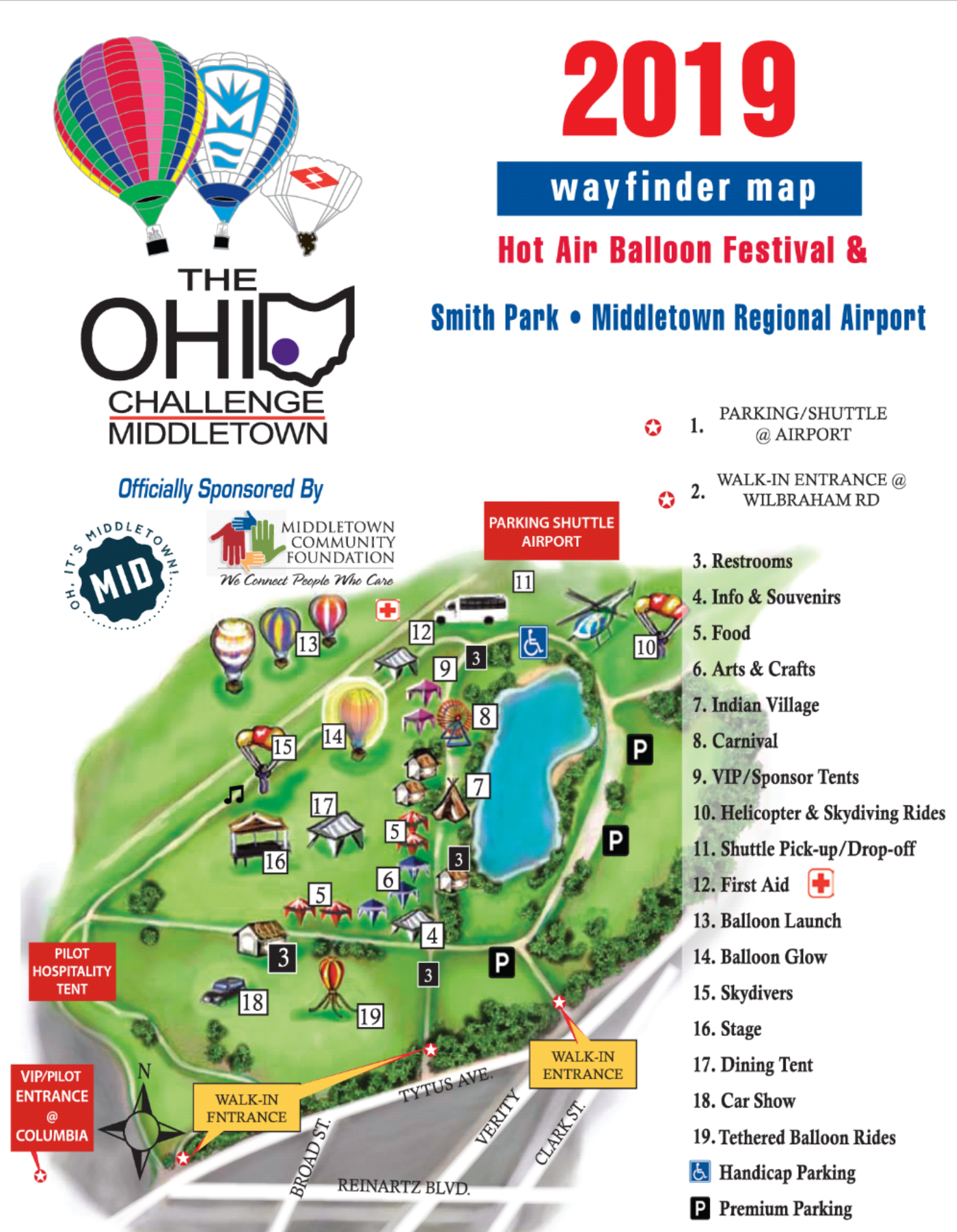 ---